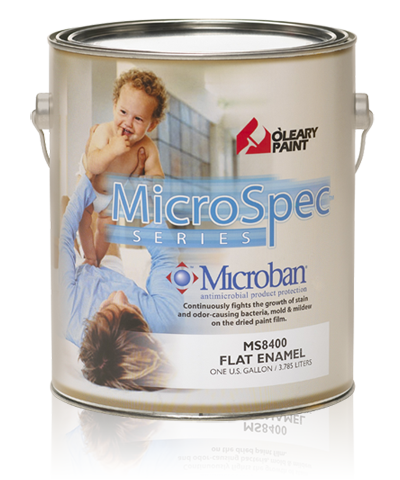 MicroSpec Line
MicroSpec Enamel with Microban®
Features
A top grade interior, Low Odor, Eggshell Wall Paint, formulated to impart excellent stain resistance properties. Finger prints, soil, grease, and many other stains wash off with mild soap and water without harming the film. This product contains Microban© protection that provides residual antimicrobial benefits engineered to last the useful life of the product. This is not a temporary treatment. It is introduced into the molecular structure of the paint film and will not wash out or wear off. This unique additive is EPA registered and will inhibit the growth of stain and odor causing bacteria, mold, mildew and other fungal growth on the dried paint film. Microban© protection does not take the place of normal cleaning and disinfecting procedures. For more information visit www.microban.com. This product complies with LEED Green Building Rating System GS-11 for interior non-flat paints.
Where To Use:

Drywall, Wood, Plaster, Metal, Masonry

This eggshell latex wall paint is low odor. Making it perfect for hospitals, schools, homes or any area where odor is a concern. Available in over 1400 colors.
MicroSpec Enamel with Microban®
| | | |
| --- | --- | --- |
| Finish | Size | Price |
| Primer | 1 Gallon | $36.95 |
| Flat | 1 Gallon | $43.95 |
| Eggshell | 1 Gallon | $46.95 |
| Semi-Gloss | 1 Gallon | $54.95 |